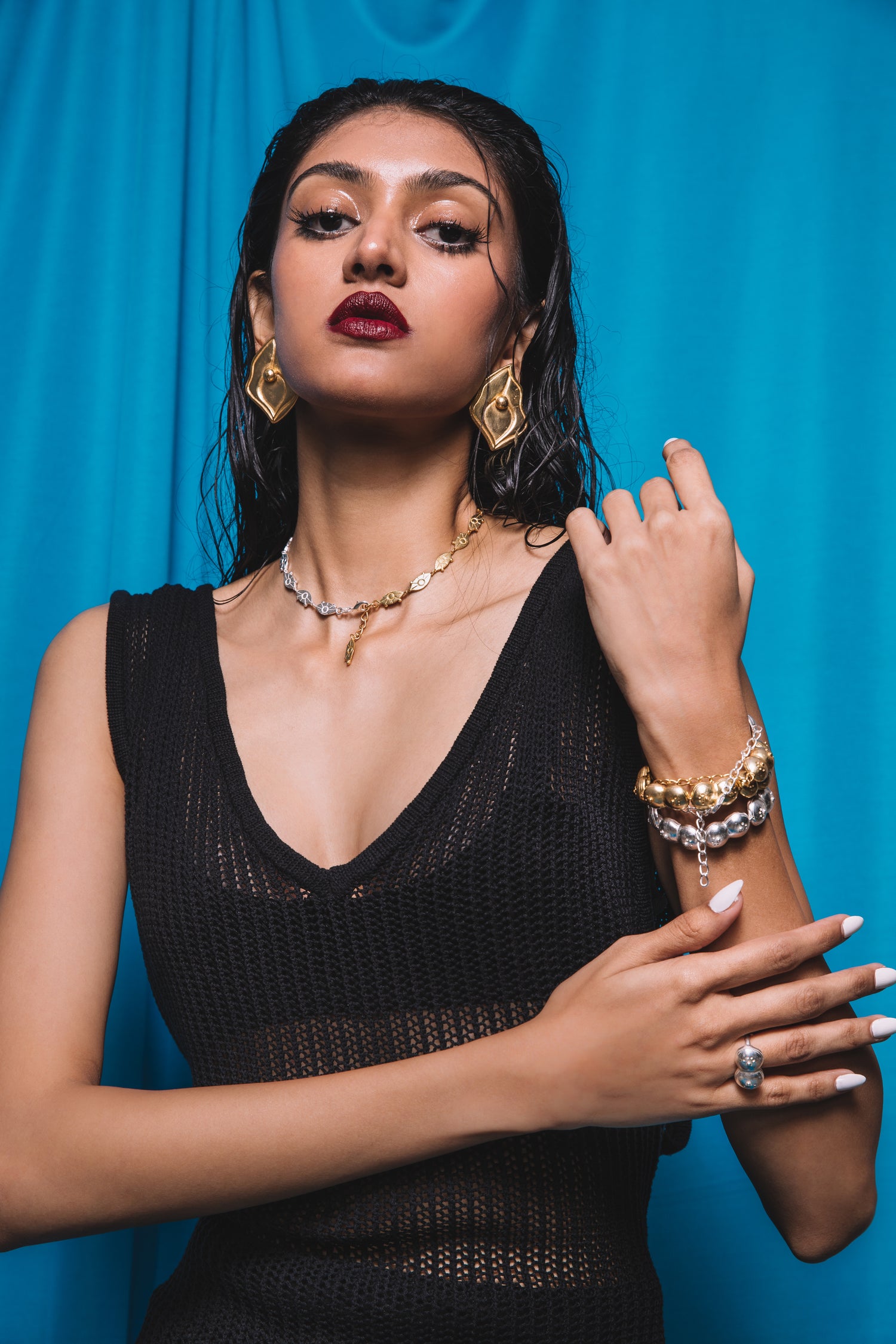 She/Her/Hers
Inspired by the main elemental energies of the woman, Batoki's second collection draws from her body. Depicting the power it holds in its physical, transcending into the metaphysical.


EXPLORE
Not just for Her
She/Her/Hers is for everyone - who feels this power, is inspired by it,
moves with it and by it, sometimes unknowingly, sometimes mindfully.
The collection is inspired by the energies depicted by the elements
off of a woman's body, but the energies dwell inside us all.

You, her, him, and them. Claim your power. Claim your space.
And let's play.
Batoki brings a Mystical Box of Jewels to inspire your inner divine.
A Concoction of Artistry & Manifestations
Born out of the sheer desire to play. Batoki crafts arms and amulets
to bring magic into the new worlds you create every day.
Free Re-plating Service

To keep the energy of your jewels flowing & glowing, Batoki offers you one free re-plating service, at the cost of only shipping to you.

Lead & Nickel Free

We take utmost care to bring you jewels that uplift your energy and not harm you in any way, external or internal.

Carved Traditionally

All our pieces are traditionally carved in jewellers wax by our chief artist & founder, and then turned into wearable art.

Made to Order

All our pieces are handcrafted with good energies specially for you. So please give us time to brew the magic.
Carved in Wax. Cast in Brass. Dipped in Silver & Gold.
Handcrafted, moulded and turned into wearable art, every Batoki is
energized with intention, specially for you.
Your Portal to Art Jewelry Online in India
Step into a realm of artistry and charm with our handcrafted jewelry, proudly made in India. Batoki.art weaves magic into every creation, infusing the allure of artisanal craftsmanship with contemporary flair. Indulge in the beauty of ethereal necklaces, exquisite earrings, and statement rings, each crafted with passion and skill.
Discover the treasure trove of art-inspired jewelry, carefully curated to resonate with your soul. Embrace the fusion of tradition and innovation as we present our Mystical Box of Jewels that celebrates your inner goddess.
Our unique handmade jewelry captures the essence of India's ethnic heritage, allowing you to adorn yourself with a touch of cultural splendor. From handcrafted jewelry to artisan gemstone masterpieces, every piece tells a tale of creativity and grace.
Experience the enchantment of artisanal jewelry online in India. Each creation is a testament to our commitment to quality and authenticity. Let the sparks of magic and artistry surround you as you explore our collection, designed to inspire, captivate, and empower.